Egg Tagliolini with truffle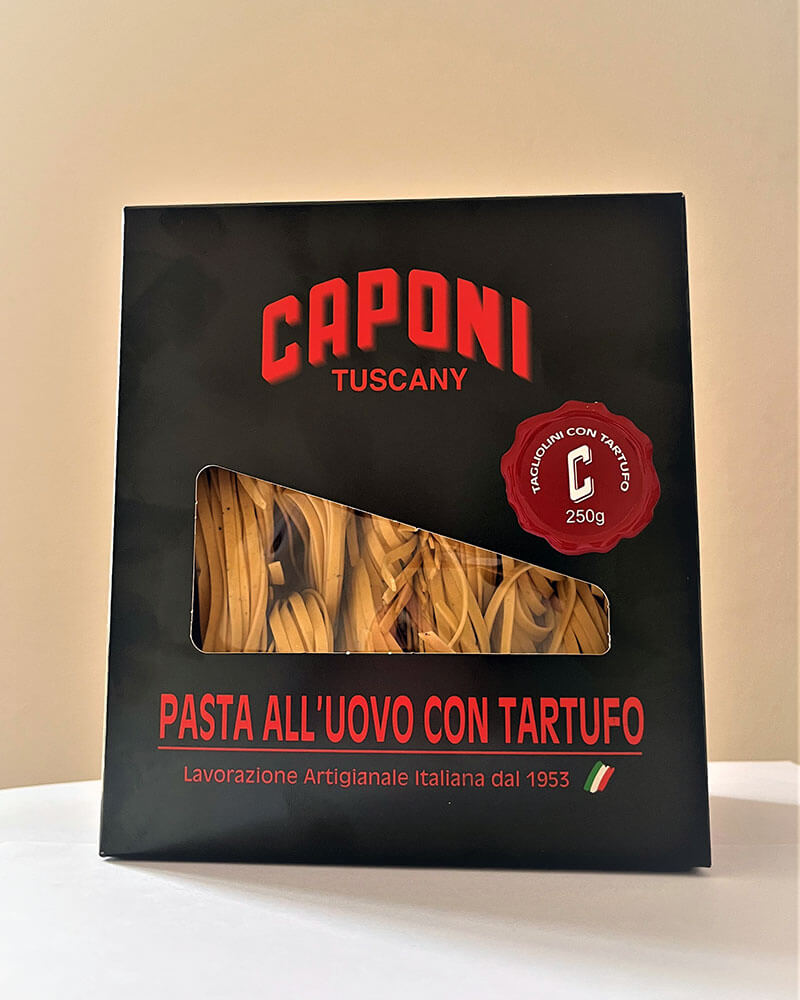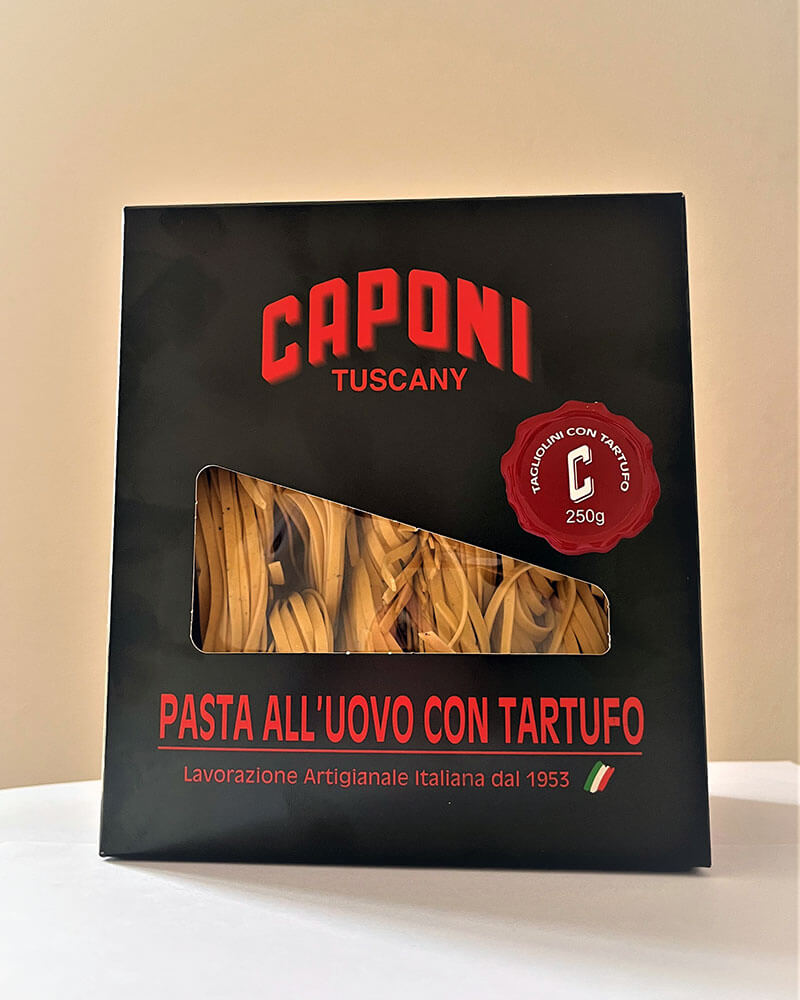 ---
Pasta type: Egg pasta with truffle
---
Cooking time: 2/3 min
---
Packaging: 250 g
---
Dressing: Our egg tagliolini with truffles are ideal either with the addition of a drizzle of oil or with truffle flakes!
The processing
The dough, made up of top quality Italian durum wheat semolina and fresh Italian free-range eggs, is combined with top quality truffles, of exclusively 100% Italian origin.
The dough is mixed in a special mixer at room temperature and, once it has reached the necessary characteristics, it is passed into another machine called a kneader which presses the dough until it reaches the right consistency in order to pass through the dough sheeter. With the dough sheeters, essentially machines equipped with steel rollers that replace the wooden rolling pin, the dough is rolled at room temperature until it reaches the ideal thickness to be passed on to the cutters. Each step of the dough sheeter is followed manually with 12-14 repetitions and the thickness of each sheet changes according to the type of pasta to be produced. Even the thickness of each sheet is manually measured as in the past, to guarantee each product to maintain its own characteristic. In fact the thickness is different according to the types of pasta for the formation of the skeins, for the drying, for the cooking and for the retention of the seasoning. After passing the dough through the special cutters, the skeins are made manually and placed on the frames for drying. The drying also takes place at room temperature for a very long time, around 48 hours. Once the pasta comes out of the dryers it must rest for a certain period of time which varies from product to product and which can be longer o shorter also depending on the climatic conditions.
The production of our pasta, from the dough to the packaging, is then meticulously followed by our women who for years, step by step and manually, have taken care of every detail to give our products that extra feature: an almost handmade craftsmanship, made entirely by hand.
Furthermore, our pasta, thanks to the lamination processed made at room temperature, does not undergo thermal variations during its processing cycle: this allows us not to alter the organoleptic qualities of the raw materials. Our manufacturing process guarantees the preservation of egg proteins and semolina carbohydrates to maintain elasticity, porosity and flavor at the highest levels.
Nutrition declaration per 100 g
Energy
kJ 1627 kcal 299
Fat
g  2,4
of which saturates
g  0,8
Carbohydrate
g  57
of which sugars
g  1,4
Fibers
g 2,8
Protein
g 11,0
Salt*
g  0,10
*The salt content is exclusively due to the presence of naturally occurring sodium